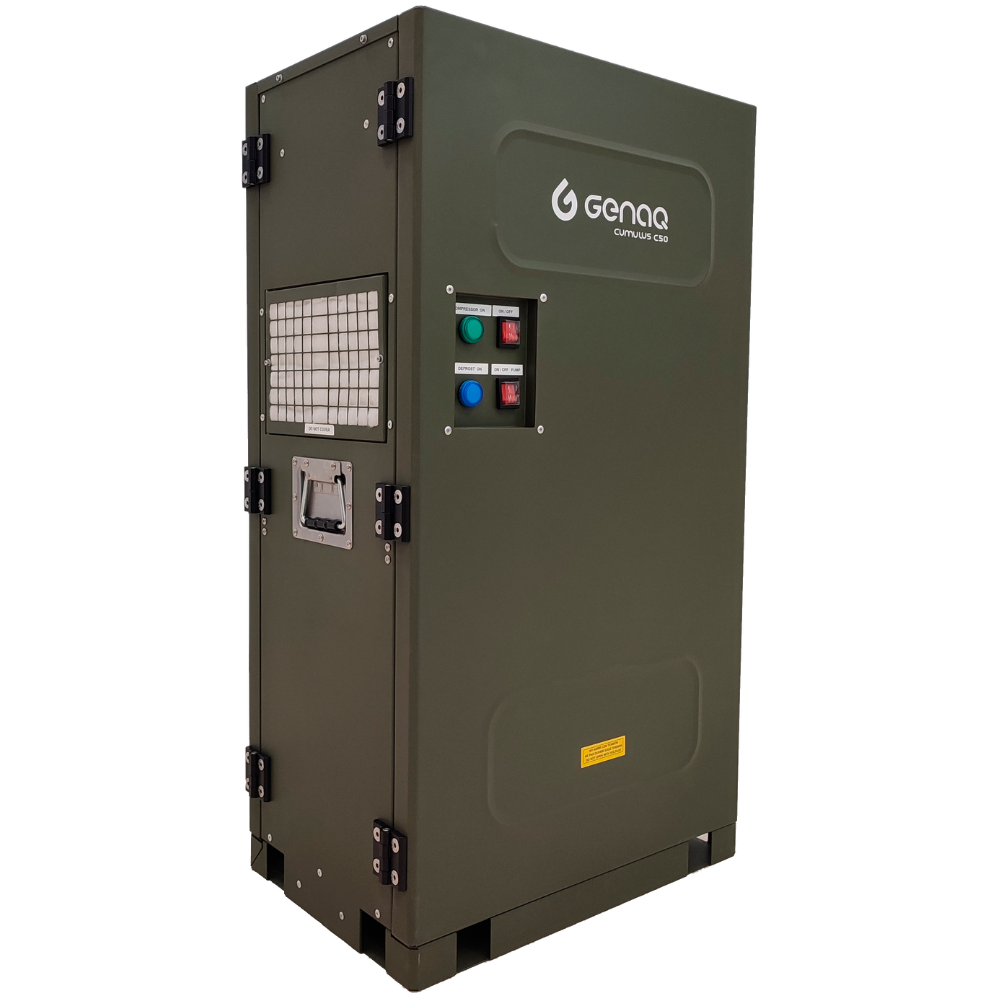 Reliable and Portable Water Supply
Sustainable and Cost-Effective
GENAQ's atmospheric water generators offer a reliable and portable solution for water supply. Whether it's the Stratus, Nimbus, or Cumulus unit, these products are designed to generate water on-site, eliminating the need for traditional water infrastructure. 
By extracting water from air humidity, these generators utilize a renewable resource and produce no waste. This makes them environmentally friendly, reducing reliance on single-use plastic bottles and minimizing pollution associated with other water sources.

Where there is air, there is water. 
Secure Clean Water Anywhere, Anytime.
Unlock Sustainable Water Independence
Reliable Access to Clean Drinking Water
GENAQ products provide a reliable source of clean drinking water. By utilizing air humidity and advanced condensation technology, these generators produce high-quality water that meets drinking water standards. This ensures a consistent and dependable supply of safe drinking water, especially in areas with limited access to clean water sources or during emergency situations.
Cost-Effective Alternative to Bottled Water and Water Transport
Compared to continuously purchasing bottled water or relying on water truck transport, which can be expensive and logistically challenging, GENAQ's atmospheric water generators provide a more economical solution in the long run. They eliminate the need for recurring costs and offer potential savings, making them a cost-effective option for residential, commercial, and industrial water supply needs.
Sustainability and Environmental Friendliness
GENAQ's atmospheric water generators offer a sustainable and environmentally friendly solution for water generation. They utilize a renewable resource (air humidity) and produce no waste, contributing to reduced plastic waste and minimizing pollution associated with other water sources. Make a positive impact on the environment while fulfilling your water needs.
Advanced Air Humidity Condensation Technology 
GENAQ products incorporate advanced air humidity condensation technology, enabling them to extract moisture from the air and convert it into clean drinking water. This cutting-edge feature ensures efficient water generation and allows for a continuous supply of high-quality water, meeting the needs of various applications.
Customizable Generation Capacities
GENAQ offers a range of atmospheric water generators with customizable generation capacities. From smaller residential units to larger industrial models, customers can choose the capacity that aligns with their specific water requirements. 
Portability and Easy Installation
Many of GENAQ's atmospheric water generators are designed to be portable and require minimal installation. This feature is particularly beneficial in emergency situations, remote locations, or areas with limited infrastructure. The portability and easy installation enable quick deployment and immediate access to clean drinking water.
Contact Sales for a Custom Quote

Experience Pure Water Perfection with GENAQ Stratus: Your Ultimate Water Solution Say goodbye to tap water concerns and expensive bottled water. With GENAQ Stratus, you can enjoy the highest quality water at a reduced cost, without the need for expensive installations. Designed to generate water anywhere you need it, Stratus brings you the convenience of cold and hot water at home or the office. Upgrade to Stratus and redefine your drinking water experience

Empowering Water Independence in Any Environment In need of water supply in isolated places without a water network? Look no further. Nimbus, our robust and high-capacity remote supply unit, delivers pure drinking water, whether for remote residences, industrial processes, or agriculture. With its standardized structure and reliability, Nimbus ensures a continuous water flow without the logistical challenges of water trucks or well water. Unlock water independence and sustainability with Nimbus

GENAQ Cumulus: Portable Water Generation for Emergencies and Quick Deployment When emergencies strike or rapid water supply is crucial, Cumulus emerges as your portable savior. Reinforced and designed for reliability, Cumulus generates water in critical situations without the need for water trucks or bottled water. Ideal for emergency response, civilian refugee camps, or forward operation bases, Cumulus offers a stand-alone, continuous supply of pure drinking water. Trust Cumulus for secure and accessible water, no matter the circumstances